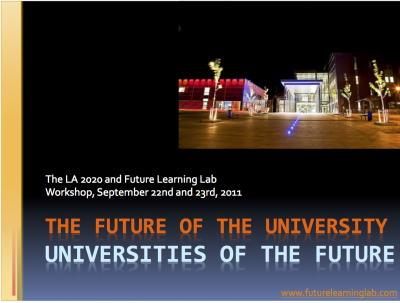 Strange as it may sound, December 11th 2017 is the first time the Social Science Faculty leadership group has invited Future Learning Lab to present itself to the group in a meeting. One wonders why it took so long? There may be few better approaches than to simply present the original concept idea which in 2011 gathered about 75 UiA staff for a two day workshop to reflect on what can be done together to engage in a two-campus-wide dialog on the challenge of meeting tomorrow´s digital society issues and concerns.
Learning is only one of these digitalization issues, but education as a social institution taps into a range of others: eHealth is to an extent a matter of eLearning. Adaptive workplaces demands strategies and planning of learning to change. Anyhow, this is how we approached it and have continued to invite the university management in, every year, since then.
Since 2011, Future Learning Lab has built a research group, a center, and a network with international connections at high levels. We have done research projects, workshops and conferences funded by several funding agencies, totaling about 6-7 million Norwegian kroner — not counting. Our network runs an annual conference that attracts 150-300 attendees every year, depending on themes.
Here are four basic ideas to present to the SV leader group – questions most universities now ask themselves:
Education´s digital future is interdisciplinary and fundamental. How does one approach it?
The new digital sharing economy alters the relation between universities and their respective regions. How so — for particular regions, at particular times? Like ours?
Understanding the digital learning paradigm, entails more than technology and pedagogy – it entails sociology, philosophy and organizational analyses. Among other things. What is the better approach to achieve that dialog?
The future of learning and education is also a context of the future of scholarship in the digital age — the designs, interactions, spaces, and places in which scholarship is actualized and assembled. How does one study the future – that which has yet to happen?
In short, these are questions asked by many – this is what we proposed in 2011 and have pursued since. This website contains a wide range of materials to help spur that dialog along.
Here is that original presentation.
And the one for the SV FAK presentation.